Set-Up per canali vocali temporanei. #
Invita il bot usando il seguente link:
https://discord.com/api/oauth2/authorize?client_id=472911936951156740&permissions=288374865&scope=botapplications.commands
Poi usa il comando successivo per fare il set-up per il canale "Join To Create" in una maniera che gli utenti sono abili in modificare i propri canali.
/setup default editable:True

- Il comando che segue impedisce agli utenti di modificare il nome/limite del proprio canale.

/setup default editable:False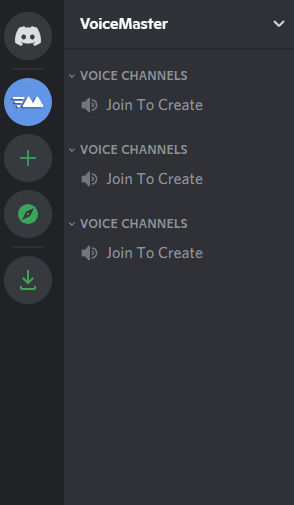 Il bot ora creerà una categoria ed un canale vocale, il canale vocale può essere spostato se vuoi oppure può rimanere nella stessa categoria.
Ora puoi entrare il canale "Join To Create" per creare un nuovo canale temporaneo, usa /voice per vedere tutti i comandi che possono essere usati oppure clicca qui.
Qui sotto c'è un tutorial che ti può aiutare a capire più approfonditamente cosa fare.
Translated by ItaliaScript – II_SWAG